Maude's typology of PDK
Maude's typology is a really useful tool for identifying specifically how the disciplinary knowledge of geography is powerful.
Alaric Maude (2016) has broken down the notion of powerful disciplinary knowledge into five types.
Type 1. Knowledge that provides students with 'new ways of thinking about the world.
Type 2. Knowledge that provides students with powerful ways of analysing, explaining and understanding.
Type 3. Knowledge that gives students some power over their own knowledge.
Type 4. Knowledge that enables young people to follow and participate in debates on significant local, national and global issues.
Type 5. Knowledge of the world
Geographical concepts are very important in the typology, because they are distinct ways of thinking that let students see and understand the world differently (type 1 and 2).
Critical thinking is another key to the typology, because geographical knowledge includes a grasp of where the sources are, the enquiry process and asking 'how do I know this is true?' (type 3)
A breadth of contextual knowledge (such as places and events – type 5) is needed to be able to apply conceptual knowledge and all the other types combine for type 4 knowledge which also brings in values and the political to consider possible futures.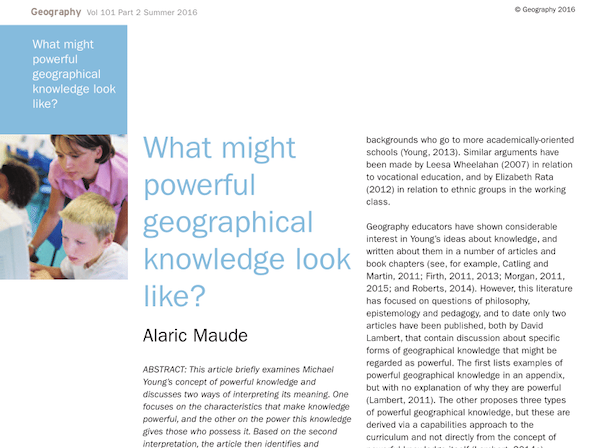 Burns (2018) has applied the principle to Primary teachers working in disadvantaged contexts (click image to enlarge).
Maude's typology is useful to have in mind when writing a geography vignette  – for example, by turning each type of knowledge into a question
Maude's typology as reflective questions
Type 1. How do geographical concepts help to think about (this aspect of the world) in new ways?
Type 2. How do geographical concepts help to analyse and explain the confusing things about (this aspect of the world)?
Type 3. What sources and processes of reasoning lead me to conclude that this geographical knowledge is true?
Type 4. How does this help me to form an opinion or develop an argument relating to a significant current issues?
Type 5. Do these cases (unique places, events, processes or communities) broaden my knowledge of the world?
Download Maude's typology of Geography's Powerful Knowledge
Further Reading:
Béneker, T. and Palings, H., 2017. Student teachers' ideas on (powerful) knowledge in geography education. Geography, 102(2), pp.79-85. https://www.tandfonline.com/doi/abs/10.1080/00167487.2017.12094013
Burns, R., 2018. Applying the 'powerful knowledge' principle to curriculum development in disadvantaged contexts. Impact: Journal of the Chartered College of Teaching, https://impact.chartered.college/article/applying-powerful-knowledge-principle-curriculum-development-disadvantaged-contexts/
Maude, A., 2018. Geography and powerful knowledge: A contribution to the debate. International Research in Geographical and Environmental Education, 27(2), pp.179-190. https://www.tandfonline.com/doi/abs/10.1080/10382046.2017.1320899
Maude, A., 2016. What might powerful geographical knowledge look like?. Geography, 101(2), pp.70-76. https://www.researchgate.net/profile/Alaric-Maude/publication/303301470_What_might_powerful_geographical_knowledge_look_like/links/573bd43e08aea45ee840694b/What-might-powerful-geographical-knowledge-look-like.pdf
Maude, A., 2017. Applying the concept of powerful knowledge to school geography. In The power of geographical thinking (pp. 27-40). Springer, Cham. http://ndl.ethernet.edu.et/bitstream/123456789/14153/1/124.pdf#page=36
Maude, A., 2020. The role of geography's concepts and powerful knowledge in a future 3 curriculum. International Research in Geographical and Environmental Education, 29(3), pp.232-243. https://www.tandfonline.com/doi/abs/10.1080/10382046.2020.1749771
Virranmäki, E, Valta-Hulkkonen, K. and Rusanen, J. 2019. Powerful knowledge and the significance of teaching geography for in-service upper secondary teachers–a case study from Northern Finland." International Research in Geographical and Environmental Education 28(2) 103-117. http://jultika.oulu.fi/files/nbnfi-fe2019120545755.pdf